Categories
Introducing the Dell Inspiron 7420 2-in-1 Laptop: Versatile Performance and Stylish Design
Posted on May 19th, 2023 06:49 PM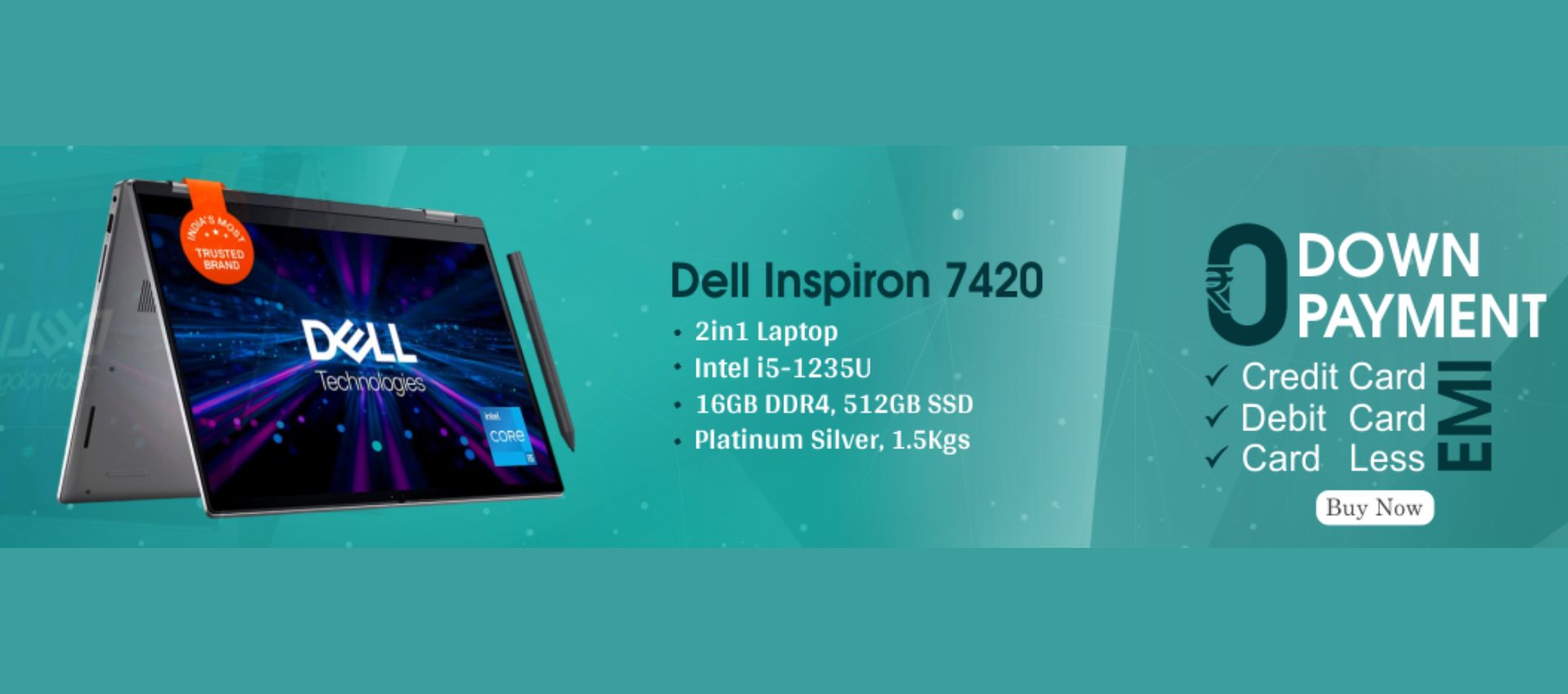 The Dell Inspiron 7420 2-in-1 Laptop
The Dell Inspiron 7420 2-in-1 laptop is a powerful and flexible device that combines performance, portability, and sleek design. Whether you're a student, a professional, or a creative individual, this laptop is designed to meet your needs with its impressive specifications and features.
Powerful Performance
Equipped with the 12th Gen Intel Core i3-1215U processor, the Dell Inspiron 7420 delivers reliable performance for your everyday computing tasks. The 8GB of RAM ensures smooth multitasking, allowing you to switch between applications effortlessly. With a fast 256GB SSD, you can enjoy quick boot-up times and faster data access.
Versatile Design
The Dell Inspiron 7420 is a 2-in-1 laptop that offers versatility and flexibility. You can easily switch between laptop and tablet mode, adapting to different tasks and workflows. The 14.0-inch FHD+ WVA touch display provides vibrant colors and sharp details, enhancing your visual experience whether you're watching movies, editing photos, or browsing the web.
Enhanced Productivity
The backlit keyboard allows you to work comfortably in any lighting conditions, enabling you to be productive even in dimly lit environments. The laptop also features a fingerprint reader, providing an extra layer of security for your data and ensuring quick and secure logins.
Windows 11 and MS Office
The Dell Inspiron 7420 comes pre-installed with Windows 11 Home, offering a modern and intuitive user interface. With the inclusion of MS Office H&S 2021, you'll have access to essential productivity tools like Word, Excel, and PowerPoint, helping you accomplish your tasks efficiently.
Impressive Connectivity
The laptop provides multiple connectivity options, including USB ports and an HDMI port, allowing you to connect external devices such as printers, monitors, and storage drives. The integrated graphics card ensures smooth visuals, while the audio output enables you to enjoy your favorite music or immerse yourself in movies with headphones.
Portable and Lightweight
Weighing just 1.57 kilograms, the Dell Inspiron 7420 is highly portable, making it ideal for students and professionals who are constantly on the move. You can easily carry it in your backpack or bag without feeling weighed down.
In conclusion, the Dell Inspiron 7420 2-in-1 laptop combines powerful performance, versatility, and a stylish design, making it an excellent choice for individuals seeking a reliable and adaptable computing companion. Whether you're working, studying, or enjoying multimedia content, this laptop delivers a seamless experience. Upgrade your productivity and creativity with the Dell Inspiron 7420 2-in-1 laptop today!